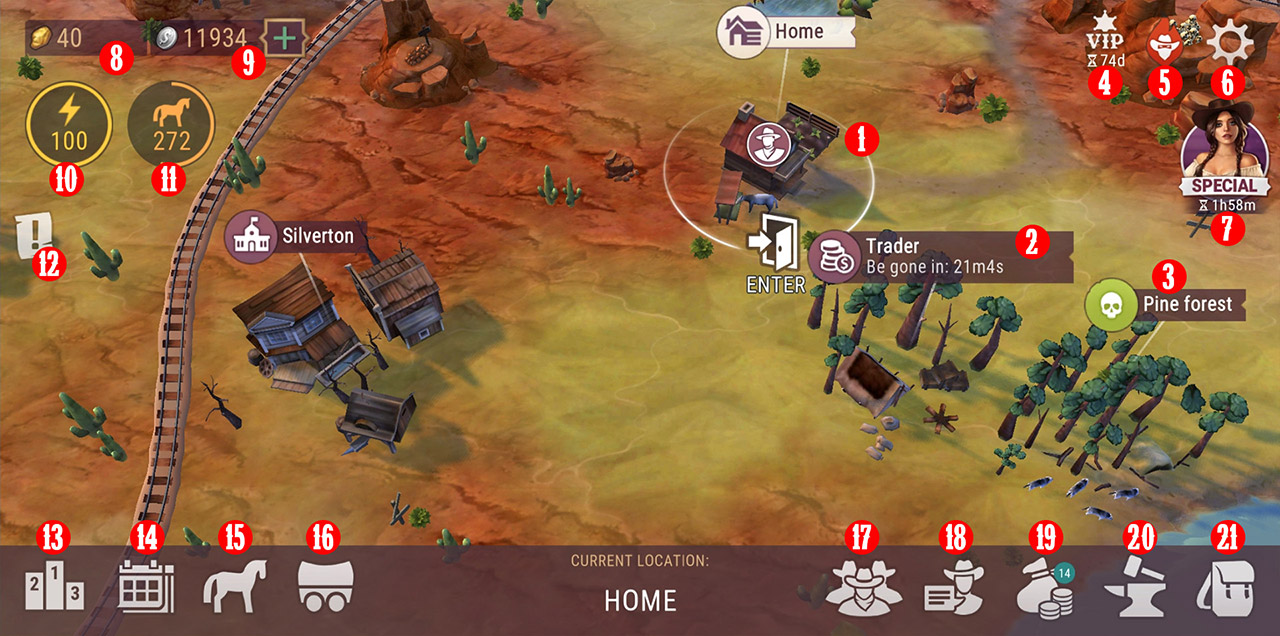 This is a Global Map where you can see the whole Westland with all its locations including your home in the center. Let's take a closer look at the interface elements available here.
Home

— this is your Ranch, the place where you live.

Trader

— one of the events on the Global Map. It appears only for a certain period of time.

Pine Forest

— one of the farm locations. You can get some resources here or go hunting.

VIP

status gives you a certain number of benefits. Shows how many days left till the expiration.

Bandits' Anger level

— when it becomes red, bandits will try to raid your Ranch.

Settings menu

— here you can choose the quality of the graphics, change the language or contact Support.

Deal of the Day

— a really good offer!

Gold Nuggets

— you will need them to get the best items in Westland.

Silver coins

— main game currency.

Energy

— helps you travel faster.

Horse Energy

— once you get a horse, you will become able to travel on its back.

Quest book

— here you can find the list of your current tasks.

Leaderboards

— try to become the best of the best.

Daily reward

— enter the game on a daily basis and get free gifts!

Horse

— feed your horse or put something into additional inventory slots.

Wagon

— useful when you're going to carry lots of items around.

Alliance

— the place to interact with your buddies.

Chat

— if you need to say something right here and right now!

Shop and Inbox

— when you want to get some useful stuff right now!

Craft

— tap here if you need to craft something basic on the go. An axe, a pickaxe, or a torch? There you go!

Inventory — the content of your backpack and pockets!